Veterinary Surgeon - Full or Part Time
Overview
•   Modern and well equipped Small Animal GP RCVS Accredited practice, silver awards in both ISFM and RWAF. Opened in 2018.
•   16 – 40 Hours per week over a flexible 7 day rota, weekends will be in rotation with other Vets. We offer and support a wide variety of shift patterns from compressed hours, late starts, split shifts etc.
•   Salary £35,000-£50,000 DOE
•   No OOHs or on call.
•   Become part of 5 Vet, 4 RVN and 3 VCA supportive clinical team backed up by our Client Service Advisors and Client Services Manager.
•   Excellent CPD allowance and Benefits. Certificates and CPD funded and actively encouraged.
•   Open to Veterinary Surgeons of all experiences levels. 
•   Locally owned and run with wider support from Vets4Pets. 
About Us
We have a team of 4 full-time and 1 part-time Vets, who are at varying levels of experience and have a diverse skill set, with one undertaking a certificate in Medicine and one in exotics! We have 3 full-time experienced Nurses (2 who have 10 + years experience and multiple certificates between them) and 1 full-time recently qualified RVN, who all engage in many schedule 3 duties. We have a dedicated Veterinary care team of 1 full-time and 2 part-time VCAs assisting the Vets and Nurses as well as providing excellent in-patient care. Our client facing team is made up of 1 full-time Client Service Manager, 2 full-time and 2 part-time Client Care Advisors. In addition to our colleagues, we have a mixture of volunteers, Vet students on EMS and Nursing students on placement as we are a nurse training practice.
We are Small Animal GP RCVS Accredited practice (around 40% dog, 40% cat, 15% Rabbit and 5% mixed between small furries, reptiles and birds), with the ability to work up and follow through a wide variety of cases. We currently hold silver awards in both ISFM and RWAF, and we hope to gain Gold awards in the future. We have full in-house lab facilities, Digital x-ray, dental x-ray, ultrasound, multiparameter monitors and individual cat, dog and isolation/exotics wards. 
About You
As the ideal candidate to join our team, you will have good general consulting, surgical and medical skills and have some experience in emergency surgery. You will also be confident working sole charge, as you will be the sole charge vet at weekends on your rota, with the nursing and reception team.
What we offer
A supportive workplace environment, that actively promotes a healthy work-life balance. We offer an excellent CPD allowance, conference attendance and in-house support, as well as a contributory pension scheme, paid memberships (RCVS, VDS, BVA, BSAVA etc.) and exclusive company discounts and rewards including 20% off at Vets4Pets, Pets at Home and the Groom Room.
We actively encourage our colleagues to pursue their areas of interest but also to broaden their horizons and knowledge with a variety of CPD and certificates which are fully funded.
Apply
Your application has been successfully submitted.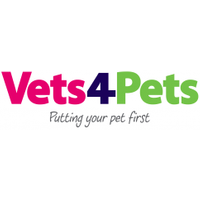 Beyond all else, we're committed to animal health and welfare, and we absolutely put pets first. The most powerful relationships we have are with pets...