Veterinary Nurse - Full Time
Job Description
A superb opportunity for an RVN to join our busy vet practice in Edinburgh has opened up. We need that ray of sunshine that LOVES animals and is always looking for ways to help. We'll happily welcome a newly qualified nurse if you have that completer/finisher attitude of getting things done.
You will be proactive and energetic, ready to look for what needs doing whether that is placing a catheter, taking a blood, running an order or stocking up the drawers at the end of the day. You will follow practice protocol but also be intelligent enough to think for yourself. If you have bright ideas we are always ready to listen! We are well equipped and operate most of the day, we expect our nurses to practice what they trained in and keep the vets on track. Our nurses also carry out plenty of consultations every day and take care of all our inpatients as well as client care needs.
We are looking to build a long term team after a restructure and want to bring in the right nurses to support our long term vets who love their jobs too.
We offer a great salary and have the support of the mighty Vets4Pets behind us but we have our own individual unique flair.
You will benefit from great discounts for your own pets treatment in the clinic and 20% off at Pets At Home too. Discounts for high street brands so you can enjoy your time off. Quarterly team adventures to help everyone stay sane and bond. Before Covid we saw our team zip lining their way across the treetops of a beautiful glen. Our Christmas gift was a massage to help everyone relax after the long hard year. The team is SO important to us we invest in you from day one. Other benefits include fruit baskets, flu vaccines and more.
Apply now with an email telling us more about you, we care more about you than your CV.
Apply
Your application has been successfully submitted.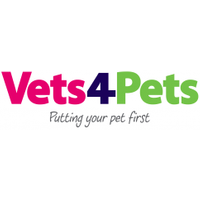 Beyond all else, we're committed to animal health and welfare, and we absolutely put pets first. The most powerful relationships we have are with pets...