Client Care Advisor Full-time
A role as a Client Care Advisor has become available either Full Time or Part Time.
Are you open and friendly, enjoy providing great customer service, and can't resist keeping things organised and running like clockwork? If so, we have just the opportunity for you to look after us, our clients and, their pets!
About Us
Our established small animal practice has a fantastic opportunity for a forward-thinking and enthusiastic client care assistant to join our friendly and professional team. We are a small, friendly, team that enjoys a close relationship with our clients. We really focus on great customer care which helps us with our ultimate aim of keeping pets living as long, happy and, healthy lives as possible. We believe that prevention is better than cure and that pet owners should have all the information they need so they can make the right choices for their pets.
As our friendly face at front of house you will have a key role to play in helping us fulfill these objectives. We have an exceptional, friendly, service-focused team to help deliver these goals of providing outstanding animal care combined with a level of service that puts our clients' needs first and we really are excited to be in the position of adding a new individual to our team.
What your typical day will look like
Your focus is to provide an exceptional service to our clients and the best care possible to their pets - providing a link between clients and the clinical team. Your ability to build strong relationships with our clients, their pets, and the practice team will be critical to your success. You are the friendly and welcoming face for the client and their pets when they arrive at the practice. You are able to provide guidance by keeping yourself fully up-to-speed with the practice services and any additional services available. You are calm, attentive and always focus on the client's needs. You will greet each client and offer support, guidance, and expertise, managing payments and future bookings confidently. Coordinating the smooth running of the day-to-day routines of the practice will be done using our computerised booking system, so computer literacy, an ability to work under pressure, and experience in managing a busy phone system are all a must. Your great service provided to the client will leave them looking forward to their next visit. 
You are the kind of person who:
 - Feels rewarded making customers happy and ensuring their needs are met.  
 - Can stay calm when chaos is happening around you.            
  - Enjoys solving customer problems.                                                                         
  - Loves to keep admin under control and getting the detail right.      
 - Can identify problems before they arise and intervene to prevent them.       
 - Knows how to deal with an emergency and keep a cool head.                                 
  - Has an uncanny knack for being able to always put a name to a face, even if you've only met them a few times.             
 You can deal with everything that is thrown at you, from comforting a client who has had some bad news about their pet or sharing in the joy of a new puppy's first visit to the vet. Your personality is infectious and along with your fellow colleagues, you create a welcoming and friendly atmosphere in the practice. In short, you like to be busy, enjoy helping people and their pets, and always endeavour to make a difference.
Benefits                                                 
 This is a full-time or part-time position, working on average 25/30-40 hours per week including 1 in 3 Saturday mornings. You will get 5.6 weeks holiday as well as your Birthday off, plus we close the doors once a month for a Tea & Cake break! We also offer a company pension and other discounts including 20% off in Pets at Home and the Groom Room. Salary is the national minimum wage. Our focus is on looking after you, so you can concentrate on doing what you do best, looking after clients and their pets! If you'd like a work environment where you are properly supported and valued by your boss, where you are compensated for the dedication and quality of your work, and where the team surrounding you has your back at all times, then get in touch. 
Apply
Your application has been successfully submitted.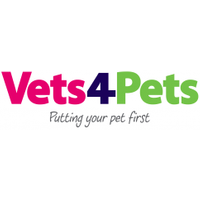 Beyond all else, we're committed to animal health and welfare, and we absolutely put pets first. The most powerful relationships we have are with pets...